Underwater photography using an aquarium
saturday 15 july 2017, 14:41 by Elja Trum | 924 views | 0 comments
Last year I planned a photoshoot with a model at a local lake. I have no equipment for underwater photography, but I used a 20 dollar aquarium to get underwater shots with my normal gear. A cheap way to get great underwater shots.


Aquarium
I went to a local garden shop to get a simple aquarium specifically for this shoot. I was looking for a plain version; a simple rectangular glass box. The one I got was 20 dollar, but you can probably get one for less.
Do not get a spherical aquarium, this will cause too many reflections in the glass. The reflections are already an issue with the rectangular one I had.
Using an aquarium to shoot underwater does have its limitations. You can't use autofocus through the glass and the (in my case) murky water. I just guessed the distance and manually focused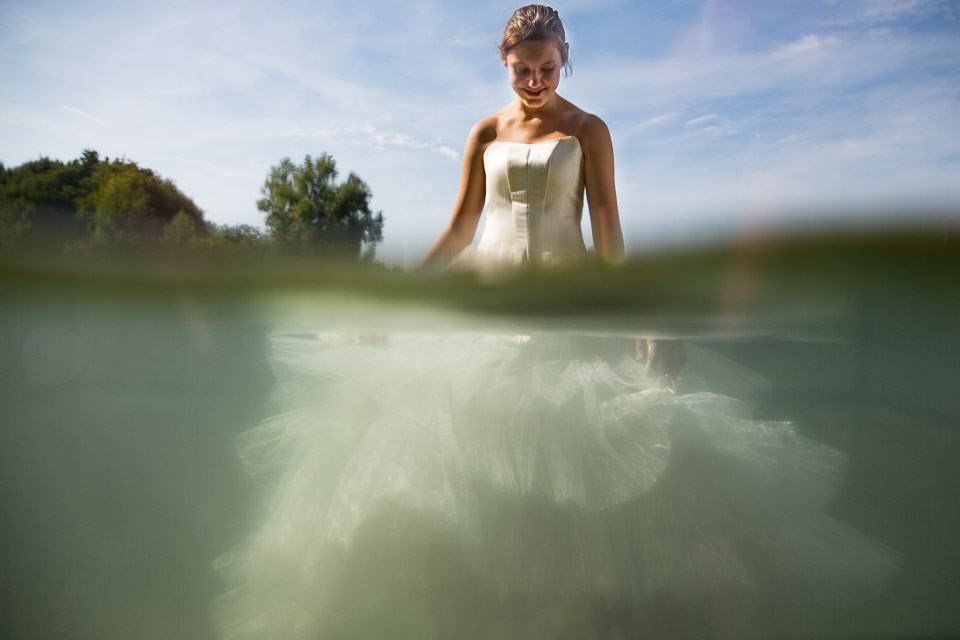 Use the aquarium like a boat. Since the aquarium is made to hold water in, it also won't let water in when submerging it (as long as you don't submerge it completely of course). You will have to force it down quite hard to get it submerged a bit.

Select an aquarium large enough to hold your camera and lens and still leave you with some space to handle and move your gear. I used a towel to protect the glass from hard bumps with the bottom of my gear and it was handy having a towel close by for any water that got on my gear.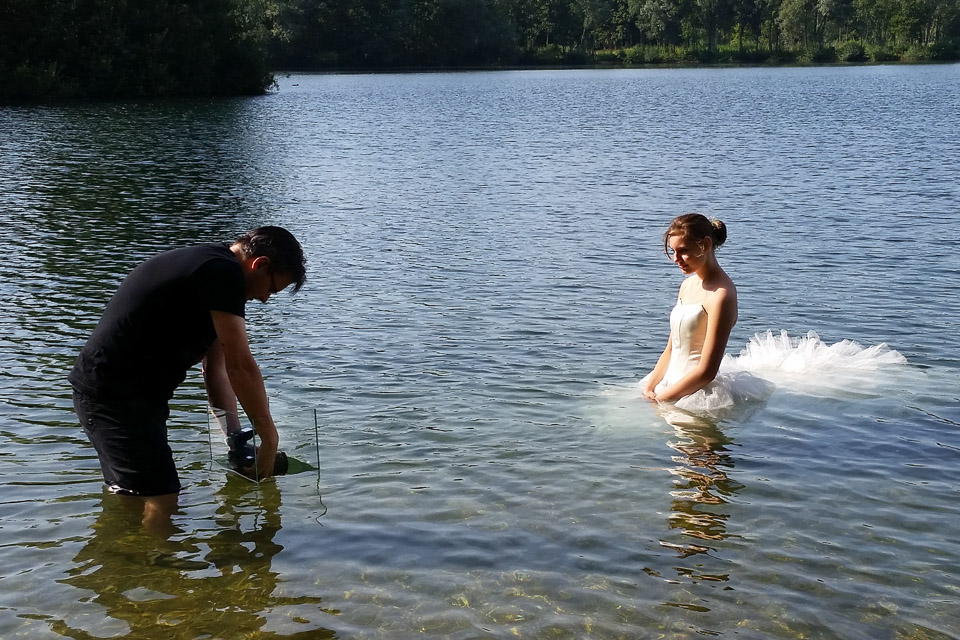 Halfway
What I really liked were the halfway shots. Taken with a view both under water and above the water simultaneously. To get this effect it is wise to keep some distance between the aquarium glass and your lens.
This extra distance might add some extra reflections, so when you're shooting fully submerged you want to put the end of your lens up against the glass for minimal reflections. Only keep your distance when shooting these halfway shots.
I went as far as pushing my camera with its back against the glass on the other side to have the maximum distance between the lens and the glass.

Don't expect razor sharp shots from this technique, but it will get you some great shots nevertheless. Of course you need to be careful with your equipment. Be extra cautious to keep your equipment dry.

About the author
Elja has a passion for portrait photography. He is the author of a book on black and white photography and owner of Photofacts.nl, the largest Dutch blog about photography. You can follow him and his work on Instagram.
Be the first to leave your thoughts.

Share your thoughts
Let op:
Op een artikel ouder dan een week kan alleen gereageerd worden door geregistreerde bezoekers.
Wil je toch reageren,
log in
of
registreer
je dan gratis.
Elja Trum
Portrait Academy; improve your portrait photography
Would you like to take better portraits? At Portrait Academy all we focus on are tips and tricks to create better portraits.
Portrait Academy was founded by Elja Trum and Michael van Helden. The articles are written by us and by other bloggers. If you would like to help by adding your voice to Portrait Academy please contact us.
Free ebook: 25 Tips for Photographing Kids
Find out how to improve your kids photography with our free ebook. You will also recieve weekly portrait photography tips.