How to photograph a low-key studio portrait
monday 4 september 2017, 20:02 by Elja Trum | 1,922 views | 0 comments
Photography is a play of light and shadows. Without shadow a photo will often fall flat. A low-key photo allows you to play with light and shadows. In a studio you have complete control over where the light and shadows are.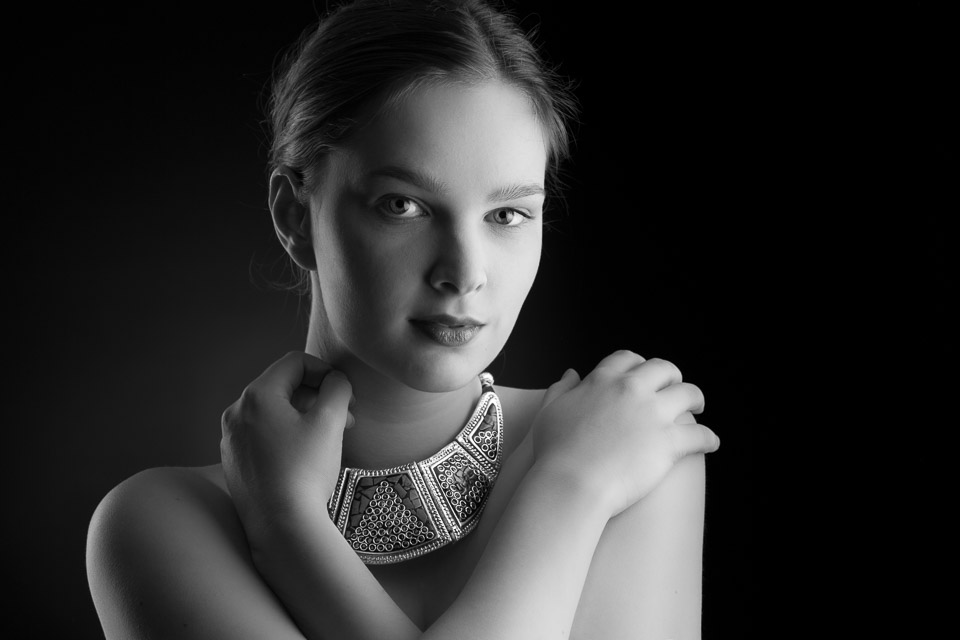 1/160s, f/11, ISO 100 @ 160mm
Low-key

A low-key photo is a photo where there are (much) more dark tones than there are light tones. This doesn't mean there can be no light tones at all. The simplest way to shoot a low-key photo is by using just a single light source.

In this photo of Yvet I used three lights. However, the two added flashes are only used to add some minor extra lighting.

The main light is positioned on the right side of the model. It's a studio flash in a octabox. It is placed very close to the subject to make the light nice and soft on her face.

One extra light is a flash placed on the left behind the model. I used a stripe light. It created the rim light you see on her shoulder, hand, neck, face and hair.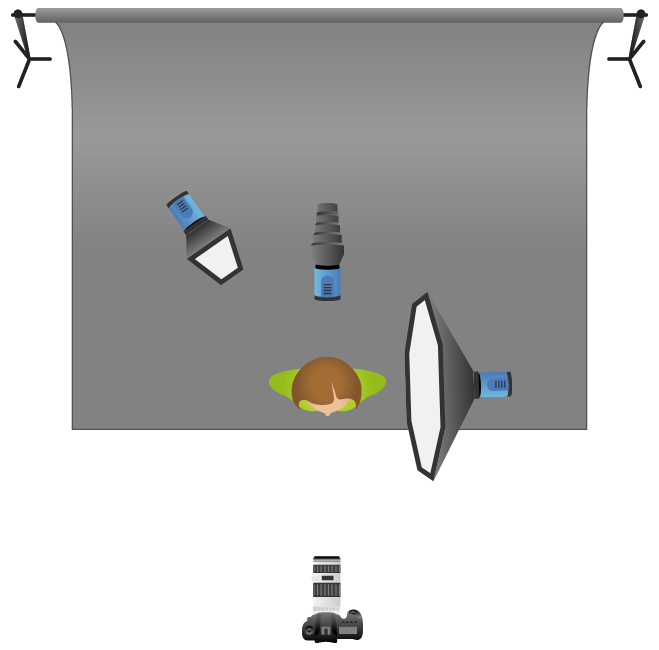 The second extra light is aimed at the black background. It is placed behind the model on a tripod on the ground and fitted with a snoot. This flash projects a small circle on the background.

The background light is at a low power setting to make the light circle a very subtle addition. It adds just a little bit extra to the otherwise completely black background.


Post production
I processed the photo in Lightroom. I removed some small blemishes from the skin and softened the skin a bit. I also dimmed the light on the right side of Yvet a bit with a gradient filter. This makes this part a bit less prominent in the final image.
Finally I added some extra clarity to Yvet's eyes and the necklace she is wearing.
About the author
Elja has a passion for portrait photography. He is the author of a book on black and white photography and owner of Photofacts.nl, the largest Dutch blog about photography. You can follow him and his work on Instagram.
Be the first to leave your thoughts.

Share your thoughts
Let op:
Op een artikel ouder dan een week kan alleen gereageerd worden door geregistreerde bezoekers.
Wil je toch reageren,
log in
of
registreer
je dan gratis.
Show all articles about Studio
Elja Trum
Portrait Academy; improve your portrait photography
Would you like to take better portraits? At Portrait Academy all we focus on are tips and tricks to create better portraits.
Portrait Academy was founded by Elja Trum and Michael van Helden. The articles are written by us and by other bloggers. If you would like to help by adding your voice to Portrait Academy please contact us.
Free ebook: 25 Tips for Photographing Kids
Find out how to improve your kids photography with our free ebook. You will also recieve weekly portrait photography tips.